Façade is as set of archival digital prints that began as collagraphs. The plates were made from paper, cardboard and plaster.
After printing the plates and adding Japanese tissue chine-colle the prints and the plates were both scanned into a computer. They were then digitally collaged using Photoshop and combined – print 1 with plate 6, print 2 with plate 5, and so on.
After printing the plates were destroyed so there is only one copy of each original collagraph print.
All the prints are 250 x 250 mm.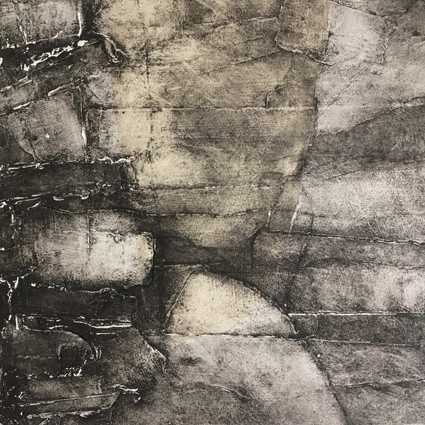 They were made at the Tasmanian College of Arts in Hobart when I was the International Artist in Residence at the University of Tasmania in Aug/Sep 2016.
My stay in Hobart was the first time I'd lived back in an urban environment since leaving England to settle in New Zealand in 2003 and the original collagraphs were abstract responses to the surfaces of the city, the buildings, walls, streets and textures. They also referenced previous works, and styles of work, that I had made when I lived in London.
Façade relates both to the front of a building and a deceptive outward appearance.