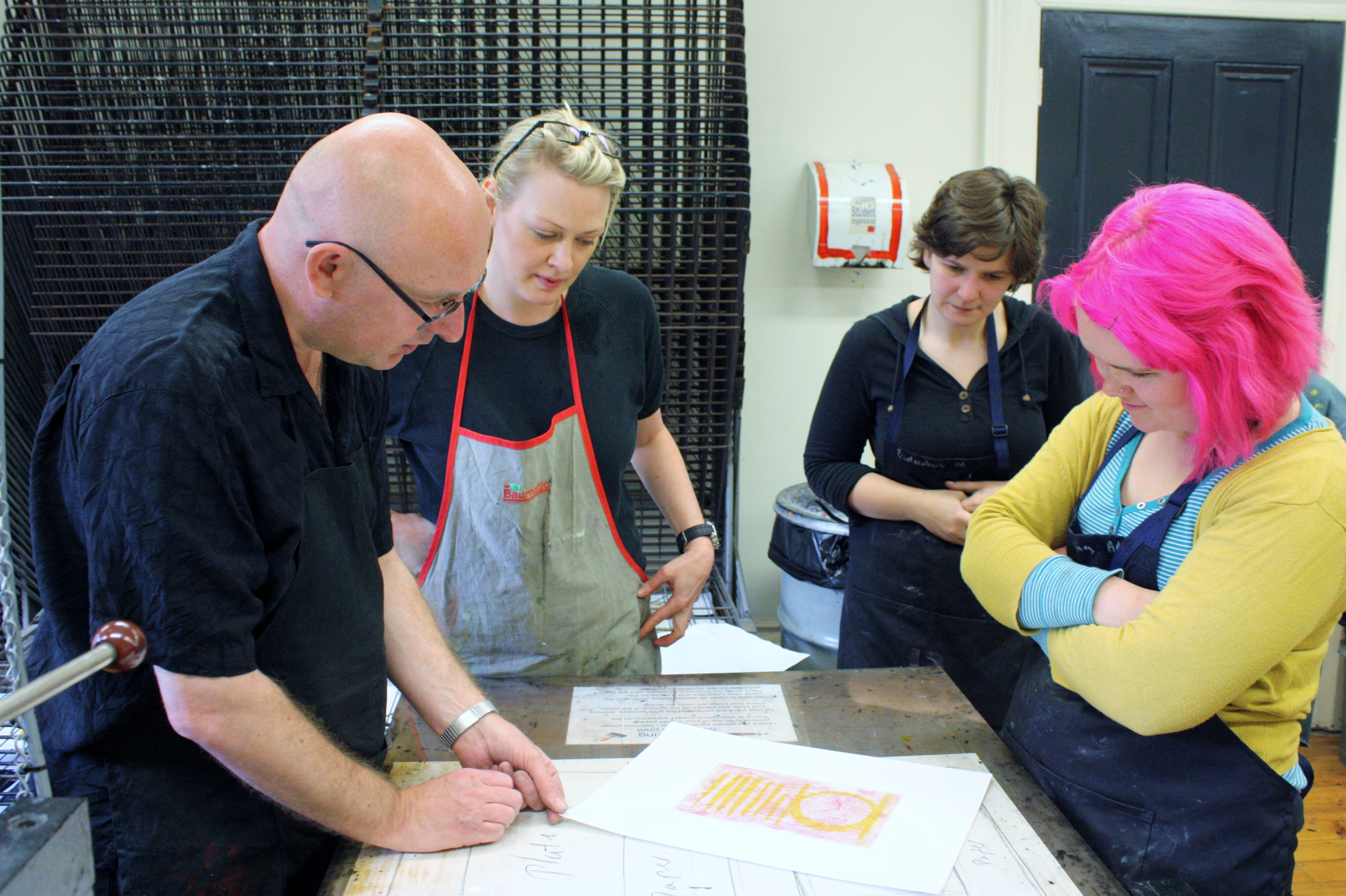 International Printmaking Workshops
Mark Graver travels widely to deliver printmaking workshops in Acrylic Etching Techniques as outlined in his book 'Non-Toxic Printmaking'
Workshops have been held in the UK at the PRINT! exhibition , Exchange Gallery, Penzance, John Howard's print workshop in Falmouth, Cornwall, the West Yorkshire Print Workshop in Mirfield and the Seacourt Print Workshop, Bangor, Northern Ireland.  In 2011 Mark ran workshops in Australia at Ballarat University as part of a residency during the Month of Print arranged to coincide with the Impact 7 international printmaking conference at Monash University, Melbourne and at the Chisholm Institute in Frankston.  And in 2013 ran a week long workshop at the Gainsborough's House print works in Sudbury, Suffolk, UK.
As a guide a typical 3 to 5 day workshop could cover the following:
A 3 or 5 day workshop etching aluminium (or zinc) in copper sulphate/salt mordant using acrylic resists and printing with Akua water based intaglio inks.
This is a guideline for a workshop rather than a rigid structure. I prefer to allow things to evolve within a framework according to participant's particular interests, imagery and enthusiasms.
It may be that one technique suits a particular person's work whereas another may not but the aim is for everyone to go away with a deeper knowledge of the processes, finished prints and plates that can be editioned and/or developed at a later stage.
Day 1
Intro into 'non-toxic' printmaking techniques. Safer approaches to etching – why use acrylic resists and salt etch mordants?
Plate preparation – filing, sanding, de-greasing with soy sauce
Applying Acrylic Resist – flow coating plates
Backing plates
Basic line etch
Etching
Removing resist with soda ash solution
Inking – registration and printing with Akua inks
Day 2
Introduction to lift resist using vegetable fat – List resists allow for gestural painterly direct mark making.
Plate preparation – drawing/painting with vegetable fat/ applying resists/lifting resists, etching and printing
Day 3
Colour printing – adding colour. Background, chine-collé, monotype techniques etc.
Multi plate printing – 2 colour printing using line etch/lift resist etc. Registration
Day 4
Extend techniques from days 1 – 3. Progress to 3 colour/ 3 plate printing
Introduce experimental techniques – destruction ground/ wash resists/ alternative resists (glue sticks, lip balm, packing tape, lipstick etc.)
Day 5
Continue with previous techniques
Edition – print good copies
Review of works made during workshop
Materials Required:
Plates cut to equal size (5 or 6?) per person – aluminium
Wet and Dry sandpaper or Carborundun powder 220 grit
Soya Sauce
Whiting powder
Kremelta/Cookeen/Chopra etc. vegetable fat – for lift resists (also need microwave or kettle/hot water to melt it)
Acrylic resist – Wharepuke Print Studio resist can be provided

Brown packing tape
Copper Sulphate
Table salt
Soda Ash
Akua Intaglio water based inks – Black, and a few colours
Paper
Then the usual – large trays for etching, files, tools, rags, blotting paper, newspaper, paint brushes etc.
Artists Talk
I am happy to give a talk about my work, non-toxic techniques and the activities and projects we initiate at Wharepuke. A talk is usually about an hour long and can be fitted into one of the workshop days or scheduled for another appropriate time. If you wish this to be a public presentation I'm happy to do that also.
Exhibition Opportunities
At other workshops I've run, particularly at open access or member based studios, I've offered the opportunity for workshop participants and other members to continue with the techniques introduced and for them to put together work for exhibition at Art at Wharepuke our gallery here in New Zealand.
As part of any workshop attending artists and/or workshops are invited to put together an exhibition that is sent to New Zealand for exhibition at Art at Wharepuke thus continuing and developing the links and networks made during the workshop period and giving  an incentive to continue exploring the techniques.
We have a set of stock frames so work can be sent flat packed to NZ, framed by us, exhibited and then returned to you. We ask that postage to and from NZ is covered by the participants and suggest a small fee is charged to those who wish to participate to cover this.  No additional fees are charged to exhibit at Wharepuke.
Interested workshops, print studios or institutions can contact Mark to discuss opportunities here.