Paintings
While current practice has been focused on printmaking and video work painting, and drawing, still play a vital role in my practice.
The most recent paintings  the White Silence Series, fifteen 300 x 300 mm mixed media on canvas works from 2010 were made over a six month period with a layer added each day.  The works are as much about this process, this time, as they are about imagery.  The paintings act as a document or memory of the event.
The materials used were powdered pigment, whiting, acrylic co-polymer and plaster with the process, the passing of time, being as important as the subject, light, in the final image.
The series also relates to an etching series of the same year Black Light
Many of the themes and ideas contained in the printmaking and video works, such as memory, place and time were first explored though painting.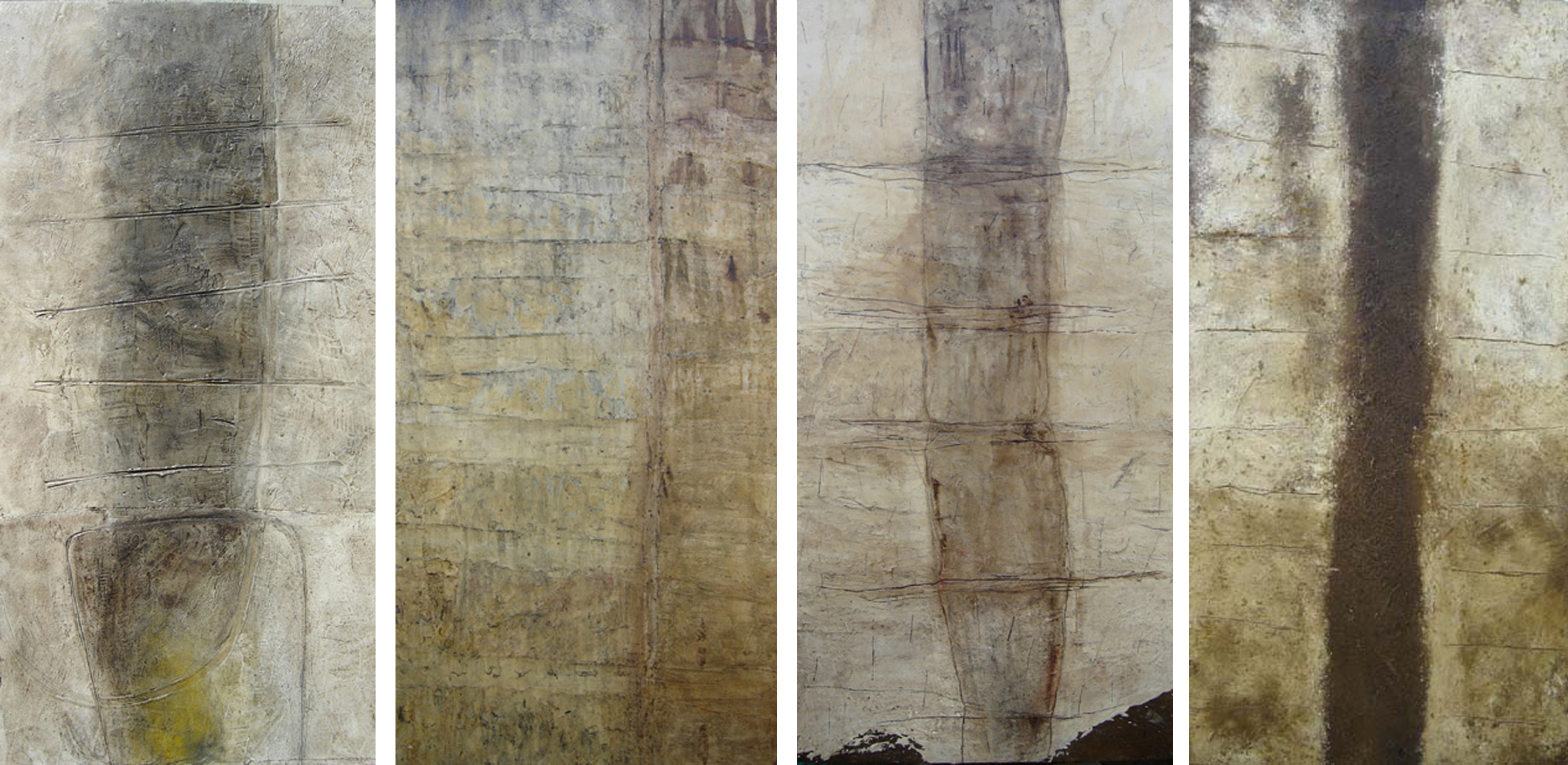 I consider the 2005 four panel series The Poplars, Promenade, Gardens and Drive (mixed media on board  each panel 1600 x 800 mm, overall 1600 x 3200mm) to be a bench mark work.
As an art practice evolves a number of  works may become bench-marks, a work that provides a temporary sense of achievement that progresses and develops one's output.  It may be a technical breakthrough or a new material or the coming together of a particular conceptual idea but whatever it is it provides a place for reference and levels of attainment to be aimed for in future work.

The series The Poplars, Promenade, Gardens and Drive, made two years after moving to New Zealand, are landscape works.  Rather than being depictions of place or places they relate to the landscape and to place through the materials used, clay and earth from particular places (and plaster, bitumen and pigments) and through the subjects suggested by the graphic mark making.
The Poplars is based on a remembered/imagined aerial view of the housing estate I grew up on in England.  Each part of the estate is named after a tree – Poplars, Firs, Willows – probably the trees that were cut down in order to build the houses.  The only distinguishing feature of the houses was the colours of the garage doors.  Poplars, Yellow; Firs, Red, Willows, Blue.
Promenade recalls an earlier place of residence as Ten Pound Poms in Sydney Australia in 1969, Gardens and Drive relate to the property we now live on in New Zealand. They both have earth from the property used as pigment and surface texture.
Other Paintings